27. PRIVATE INVESTIGATIONS, BEURSSCHOUWBURG
Today I come to you with noisy bells & whistles, excited to announce the next Quies chapter AND a squeaky, fresh, new project called Micro. It's all happening this coming Friday as part of Beursschouwburg's "Private Investigations" program.
Quies will be set up as a three screen installation with headphones for ultimate listening pleasure. Let it also be known that Ezra Eeman and myself will use the next 7 weeks to keep working on Quies. Meaning that rougly every two weeks or so, we aim to "update" the installation with new material. Until it feels finished. Making a private investigations public? Yup, something like that.
Next to that, there will be Micro. What that is or will be, I'm not sure yet. All I know is that I will aim to turn the building into an instrument and then play that instrument for you from 5 to 8:30pm. It might be the start of something new, or not.
Come find out?
More info here.
12. FIELD JOURNAL DAY 2
Monday 12 December 2011: Woomera, Andamooka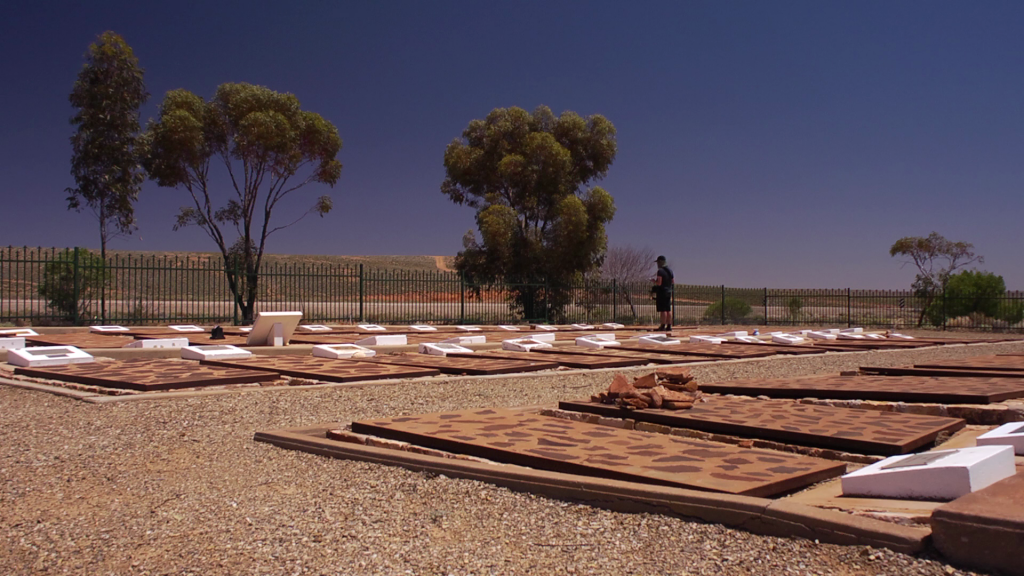 Woke up, packed the Landcruiser and started driving. We wanted to eat breakfast somewhere along the road rather than at the motel. That turned out to be the Woomera Cemetery. Slightly morbid, yes, but the dead are dead and the living need to be fed. And I want to record cemeteries.
We spent a long time there. I first recorded a general atmos, but then lost myself playing with the gate. Its dry hinges made such a beautiful, high-pitched sound. After that I got up close with leaves flapping rhythmically against the cemetery's metal fence. Another very musical sound.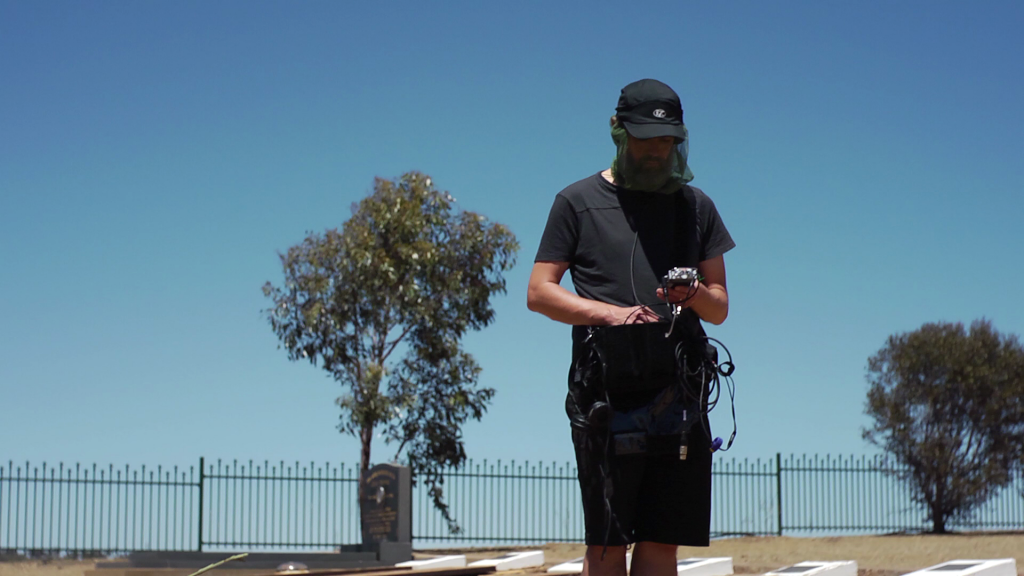 After that we took off on the Bosworth track, hoping to get close to some Lake or other. But I didn't do my research properly because the track ended at a cattle farm with no lake in sight. As it took us two hours to get there, it took us another two to get back. Stupid, really, but at least we got our first experience 4 wheel driving on unsealed road.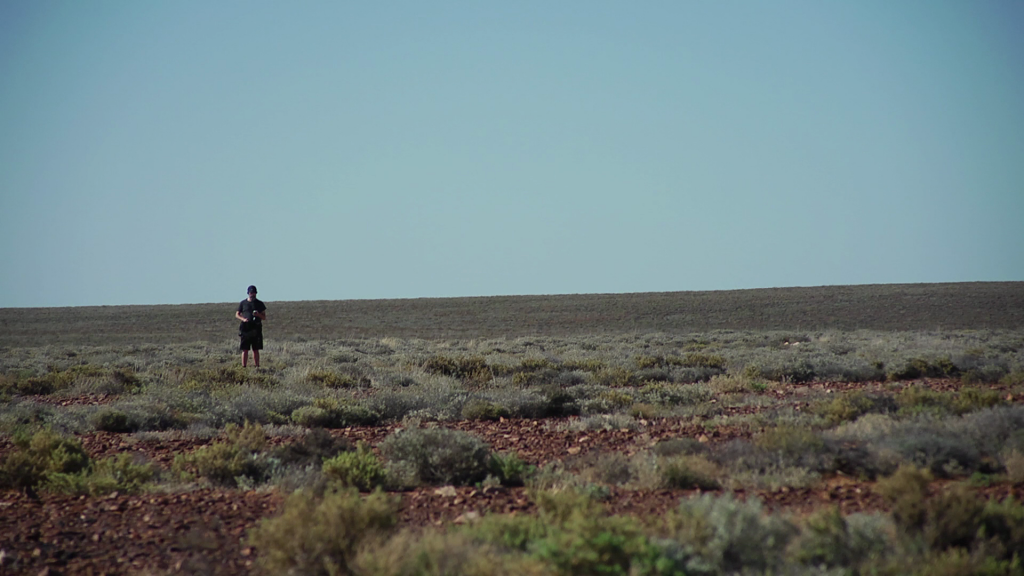 We ended the day driving to Andamooka. We made it just in time for dinner, or rather before the kitchen closed. Dinner at the Duke Bottlehouse Motel, or rather the Tucka box was chicken. Kiev for Ezra, parmeggiani for me. Wasn't too awful. The publican was from Sydney and drunk on Jameson and milk. Seriously. Whiskey and milk. In the same glass.

We asked him and a few other locals about the shortcut track to Farina we wanted to take the next day. I'd seen it on the map but couldn't tell the conditions or level of 4WD experience needed. We were told the track was badly maintained and that there were a couple of sand dunes to cross. In other words, not recommended for inexperienced drivers, especially since the rescue team was the Jameson and milk drinking publican.
None of the locals understood why we wanted to drive a rough track when there was a better and quicker track. I guess that destinations are more important than journeys here as much as anywhere else. And driving 160km at 20km/h does take longer than 260km at 80km/h.
After getting the same advice from the sober motel owner, we decided to be safe. But first we'd drive to Lake Torrens, a one-way, rough, 4WD only track.
11. FIELD JOURNAL DAY 1
Sunday 11 December 2011: Adelaide, Woomera
Jetstar fretstar. Woke up at 4:30 am after less than three hours of sleep to catch a 6:30 flight only to arrive at the airport to hear that our flight was cancelled. Noise!. That explained why I wasn't able to check in online the night before. After much to-ing and fro-ing, we ended up on an 8:20 flight with Qantas. Smooth and easy. Had a conversation with the woman sitting next to me. She was an academic pharmacist of Polish Jewish descent, had a son in Glasgow seemingly doing what I do, and was leaving for Poland to reclaim property her family had owned before the Holocaust. A very nice conversation that made the flight – uh – fly by.

After landing, we picked up the car, stocked up on food and started driving north. As we were two hours behind schedule, we didn't stop to record but drove pretty much straight to the Eldo Hotel in Woomera. Had dinner and spent a long time organizing all the equipment. Did a few recordings outside, mostly to test everything but also to mentally start the project. Then recorded my hotel room and crashed. Deep sleep.
About the equipment: I'll be using three different recording set-ups.
First set-up is a pair of head-worn DSM microphones (Sonic Studios DSM-1S/High). They're supposed to simulate the ears and are worn on the side of the head, in front of the ears. The main reason I use these is conceptual: the fact that I or my head become the microphone fits the nature of this project. Silence, or the absence of sound, is a man made concept. Nature doesn't care about silence. So rather than placing a microphone and then removing myself from the scene, I need to be in the scene, trying to be as quiet and absent as possible.
Unfortunately I have yet to find head-worn microphones that are "good" enough. Even the not-really-cheap-ones I'm using for QUIES are a bit of a disappointment as they're simply too noisy. Which is why I have a second set-up, a hand-held stereo microphone (Rode NT4).
After listening for quiet and/or interesting sound with the head-worn microphones, I aim to use this microphone if and when the self-noise of the head-worn microphone is too loud. Inevitably even this microphone won't be silent enough, in which case I will go for the third set-up, a (mono) studio condenser microphone (Neumann TLM 103) with very little self-noise. As this microphone is designed for studio/indoor use, the space has to be dead quiet. The least amount of wind will disturb the recording as this microphone has no windscreen protection like the other two.