20. FIELD JOURNAL DAY 10
Tuesday 20 December 2011: Coober Pedy
Last day recording. Captured both cemeteries in Coober Pedy. Very windy. Again.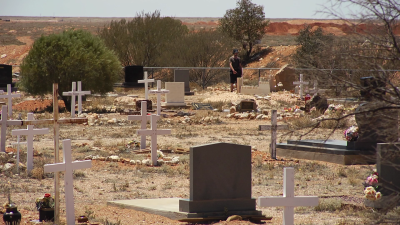 Then rerecorded the candles burning. No one entered the church today until the very end when there was barely any candle left.  I continued recording after they had burnt up so hopefully there's some beautiful quiet in there.
In the meantime Ezra interviewed me. We spoke for almost two hours and had a very interesting conversation.
And that was QUIES the film.
19. FIELD JOURNAL DAY 9
Monday 19 December 2011: Coober Pedy, Breakaways, Dog Fence
After breakfast in our underground motel room, we drove to the Serbian Orthodox Church to see and especially hear what it's like a year and a half later. Turns out there's construction work being done around the church. So no daytime recordings. Also learned after talking to a guy called Brother that the church has no priest or no active community anymore. It is still open 24/7 and we could come and record anytime. We decided to come back at the end of the day.
We drove out to the Breakaways next. There was hardly any wind or flies. I did manage to fuck up an otherwise beautifully quiet recording by leaving my phone in my pocket. It tried to find a signal, resulting in that typical interference sound. Thank god for editing.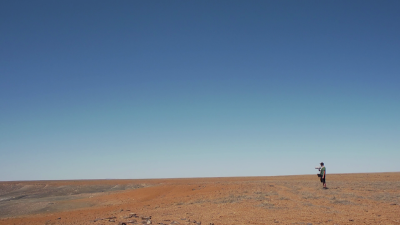 I started recording with the DSM microphones but quickly got distracted and disappointed by how noisy they are. It is such a pity because I love the fact that my head acts as the microphone. I turned to the stereo microphone next and after getting too much self noise there as well, tried the studio mic. As it doesn't come with a proper windscreen, I constructed one myself with a camping laundry basket. It did the trick as long as the wind was soft and made for a very beautiful recording of almost perfect quiet. It only worked once though as the wind picked up speed again. Did manage to capture another very quiet landscape with the stereo microphone. An almost magical experience.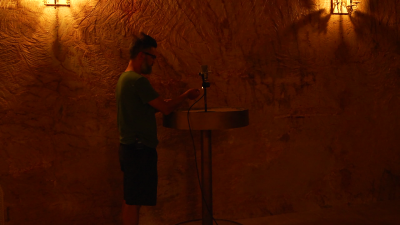 We spent the rest of the day and evening at the Serbian Orthodox Church. Because I experienced near silence there last year, I was very excited about properly recording the space. Alas. It was much windier than last year, there were tourists and my current microphones are much more sensitive.
So whether it was wind, or other visitors, I simply did not manage to grab a quiet recording. Got close for a few minutes but never much longer. Very frustrating.
I needed to focus on something else so I decided to light a candle. Because of the hollow acoustics in the space, this sounded amazing. It sounded even better through a microphone. So I ended up composing with first one then two then three candles and the stereo microphone for the longest time. When that was done, I thought it'd be cool to just keep recording until the candles had burnt up completely. Ezra drove into town to get us some dinner, which we then ate outside the church while the sunset set the sky on fire. When I went back downstairs to check on the candles, the recorder had run out of memory. Extremely stupid and unprofessional. I'll have to go back tomorrow.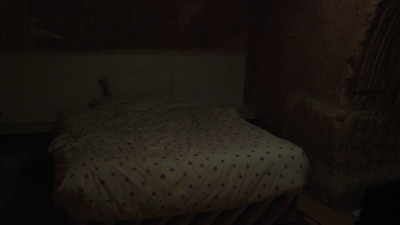 The night ended at Riba's underground motel. The "mythical" place where I experienced proper silence last year. Guess what? No silence this year. It was really quiet but never perfectly silent. Most annoying was a very low, almost constant rhythmical rumble that turned out to be someone snoring. I tried again at various moments during the night and early morning, but there was always some sonic activity. Failure.
18. FIELD JOURNAL DAY 8
17. FIELD JOURNAL DAY 7
Saturday 17 December 2011: Oodnadatta, Painted Desert, Copper Hills
This was supposed to be our day off but I don't do off days very well, especially when there's nothing else to do.
Did sleep in and then decided to visit the local museum. And that was the end of my day off.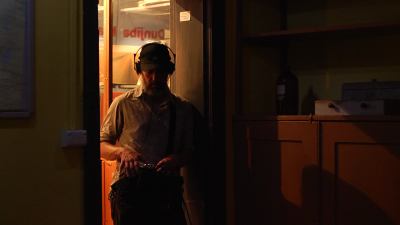 The museum is housed in what used to be the railway station and consists of 6 rooms, 3 on each side of a connecting corridor. Each room was fitted with a fire alarm and literally all of them were beeping that "replace the battery" beep. It created an amazing soundscape. To have this man made, or rather machine made, electronically generated beep in this remote environment. And all it takes to get rid off the alarm is to replace the batteries. But no one cares enough to do that, especially as you can't really hear the sound from outside. So the alarms just go on beeping. This must be my highlight so far. I spent 20 minutes recording 4 of the rooms with the studio microphone. Very mesmerizing.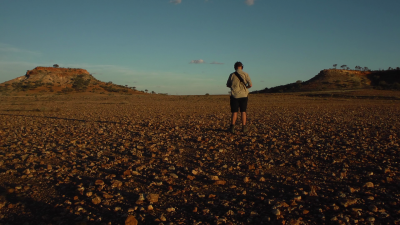 In the late afternoon we left Oodnadatta for the Painted Desert, planning to spend the night there, sleeping in the car. We pulled up and set up a few meters off the road, in an incredible landscape at the foot of two hills. Then recorded the sunset. Was too new age-y for me but Ezra seems happy with the images.
Had dinner and then had to flee inside the car. Killer mosquitoes, unfazed, undaunted by every and any repellant we had brought. Coils, creams, sprays. Nothing kept them away but the car's fly screens. That was not the end though as we were soon attacked by the smallest flying creepy crawlies I've ever seen. So small they'd get through the fly screens easily. They didn't seem to bite, just flew in and started crawling all over our bodies. Camping!
16. FIELD JOURNAL DAY 6
Friday 16 December 2011: Peake Hill, Oodnadatta
Everyone has been predicting rain since the beginning of the week and apparently today it was finally gonna come pouring down. The prospect of rain is fascinating here in the Outback. As all the roads are unsealed, it doesn't take much for them to get closed down. Not that a 4WD wouldn't be able to handle a bit of rain on the road. The problem is the damage the road surface suffers the next day when the sun starts burning.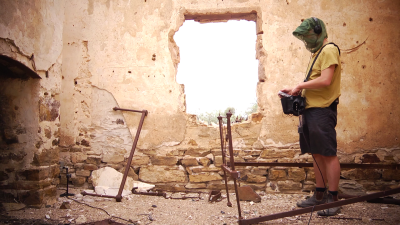 So rather than taking unnecessary risks we decided to drive past all the things to see and listen to between William Creek and Oodnadatta. We did go to Peake Hill along an amazing 4WD only track. I would have loved to record all the ruins but a heavy sky and light drizzle made us rush through the place. I did try to use the studio microphone, but the wind was too present.
Ezra got great recordings here though of me fighting with the wind or flies.
We spent the evening in Oodnadatta. I kept recording as we entered and had dinner at the Pink Roadhouse, but in hindsight, this was not interesting at all.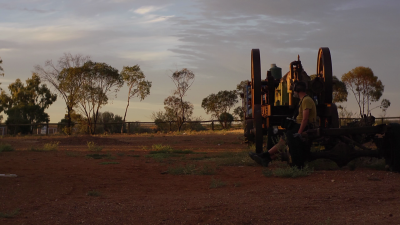 We did do some great golden hour recordings against the backdrop of a children's playground. The local aboriginal community had a christmas party a little bit further along and when that ended everybody had to cross the playground to get to the pub on the other side. One of them, a guy called Donald, came up to me and we spoke for the longest time. He was my age and said I travelled too much and that was why I had so many grey hairs. He had never been outside Oodnadatta and was living off a pension after having been diagnosed a schizophrenic. The conversation was at times hilarious, weird, confronting, and very candid. Not sure how we can use any of it ethically but I hope we can find a way. Great encounter.
15. FIELD JOURNAL DAY 5
Thursday 15 December 2011: Lake Eyre, William Creek
We spent all day on and along the track to Lake Eyre. The track itself was rough and hard work to navigate but we passed a couple of interesting spots.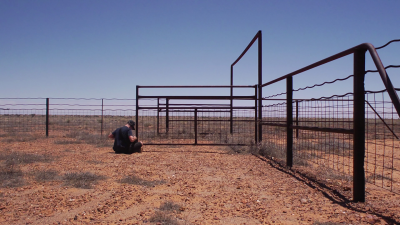 First stop was at a water tank and cattle enclosure. No cattle or anything else in sight. Visually stunning setting but very windy. Luckily the gate came with a very musical chain. I spent quite some time trying to capture it rattling and banging but the wind got in the way all too often.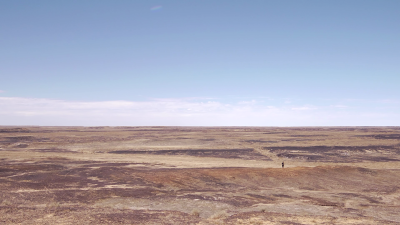 After another hour's driving, we came upon an amazing stretch of landscape, as far as the eye could see. I walked out, away from the car, for about 15 minutes, trying to get as far away from the camera. Then recorded the landscape, or rather, the wind blowing through this barren emptiness. No trees, no plants, no nothing in sight. I'm sure it looks better than it sounds.
Back at the car, we noticed the wind whistling and howling through the holes in a road sign. Yes, a road sign in the middle of nowhere. It sounded amazing but let's see whether it works as a recording.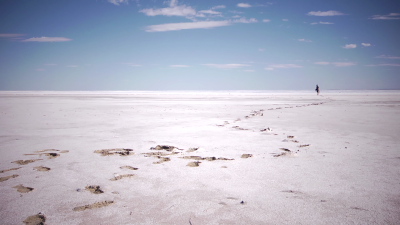 Lake Eyre is visually stunning. Sonically, there didn't seem to be much else than wind. Until I let the microphone hang down in despair… and noticed a sizzling sound of the salt melting and evaporating in the sun. Quite intriguing and hopefully the recordings are good enough. Without any visual information, they sound very similar to what the decomposing road kill sounds like. It's tempting to do an Eisenstein with both recordings, but also a bit obvious.
We spent a second night at the William Creek Hotel. Ezra filmed me talking to Amber and playing with the dog. He says it's very interesting. I believe him.
14. FIELD JOURNAL DAY 4
Wednesday 14 December 2011: Farina, William Creek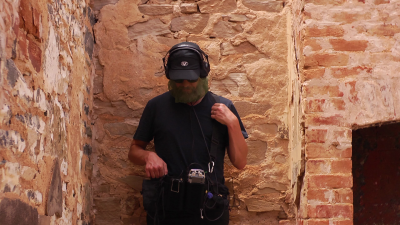 A short drive from Marree, Farina is a ghost town. Once full of potential, until everybody gave up and left. Now it's heaps of stones. There was hardly any wind, so I recorded quite a bit with the studio microphone. Needless to say there were flies and the Neumann was sensitive enough to pick them up, circling around me, sitting meters away. The experience was one of stillness and quiet, however. I hope the recordings reflect some of that.
Also stuck a microphone into bits and pieces of metal scrap. Not sure what that will sound like it.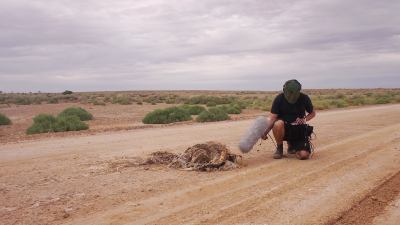 On the way back to Marree, up the track to William Creek, we came across a big emu. Or what was left of it. We held our noses and moved in closer. As it had been decomposing for what looked like a while, its stomach was producing a veritable symphony of gurgling, slurping, popping, bubbling and other disgusting sounds. It was truly hideous, disgusting and skin crawling creepy. I used the stereo microphone to get as close to the – uh – action as possible. It was very windy unfortunately so the recordings might need a bit of editing. I really hope they will get under the listeners' skin as much as it got under mine.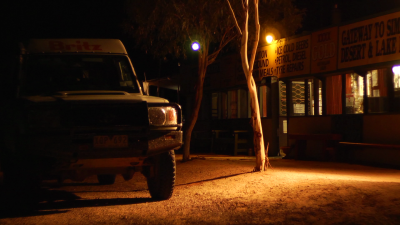 The evening ended at the William Creek Hotel, population two people and a dog.
13. FIELD JOURNAL DAY 3
Tuesday 13 December 2011: Lake Torrens, Andamooka, Marree
Our first destination of the day is Lake Torrens. The track is very rough and patchy but that makes arriving at the lake all the more satisfying.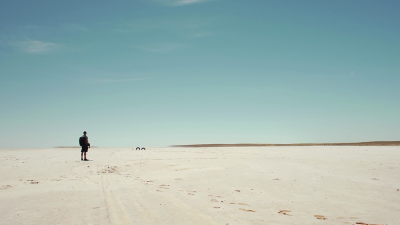 Lake Torrens is not a big salt lake. There's always land in sight. A vast expanse of whiteness or pinkness that might look monotonous at first. Until you pay more attention and notice how the sun and light are continuously changing the landscape.
If only the same could be said about the sound. Or wind, as that was the only sound on the lake. Rather fascinating to experience, but near impossible to record.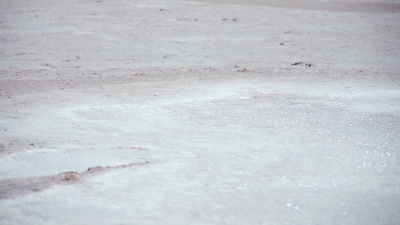 I don't see how these recordings can be interesting other than as an illustration of failure.
You could argue that I should get better wind screens. Fair enough. But what if the wind screens already eliminate as much as the human ear? What about realism? How truthful should these recordings be? Soft winds are eliminated almost entirely by the wind screen and so the recording no longer reflects the reality of the lake. And hard winds are a noise fest to the ear, but sound horrible to microphones. 
But maybe that's ok. Lens flare was once considered poor technique in cinema. So maybe that typical wind sound blasting into the microphones, isn't too bad after all…
When the wind does settle down, the air sounds beautifully pregnant. And when the wind rises up again, soft and subtle, is very fascinating and mesmerising too.
I realized today that I'm faced with an interesting dilemma in this project. Or rather, this chapter of the QUIES project. In previous chapters, I was out recording sound for sound's sake. And whether it resulted in a recording on an album, or as part of a composition or score, the focus was on the sound. Now there's someone filming me. In other words, I am no longer alone in the sound space. And even though the other person manages to stay inaudible for the microphones most of the time, he's there. And no matter how hard I try, I don't manage to ignore this. Even more, I listen and record differently, which doesn't have to be a bad thing, of course. It will be interesting to see whether I can distill another desert album though. I should (try), definitely, as it will inform or even direct the post production of the film in a certain direction.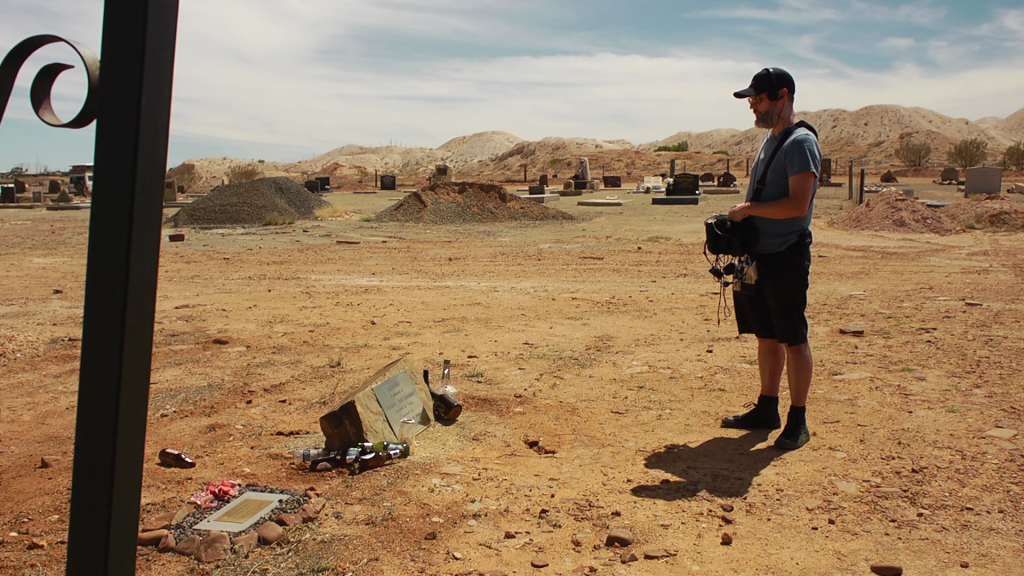 All thinking and conceptualizing aside, after Lake Torrens we drove back to Andamooka and stopped at the cemetery. I wanted to do a quick recording but we ended up spending a fair amount of time there. It was very quiet, especially when the wind settled down. At some point the quiet was shattered by a child's voice coming from far away. Have a good feeling about this one.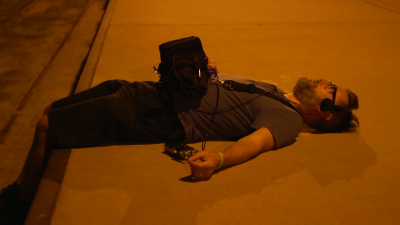 The day ended with a long recording session around the Marree Hotel. First right outside, but then a bit further on the railway platform. An odd sight, the size of this platform in a town that is just 5 people short of being a ghost town. It isn't really, as I could hear faint tv sounds off in the distance. This created a very eerie soundscape though. Especially in combination with the insects and bugs Ezra discovered a bit later. Crashing into a wall, dropping to the ground, flying up again and crashing again. Kamikaze bugs. A very odd phenomenon, but very musical.
And that was Tuesday.
12. FIELD JOURNAL DAY 2
Monday 12 December 2011: Woomera, Andamooka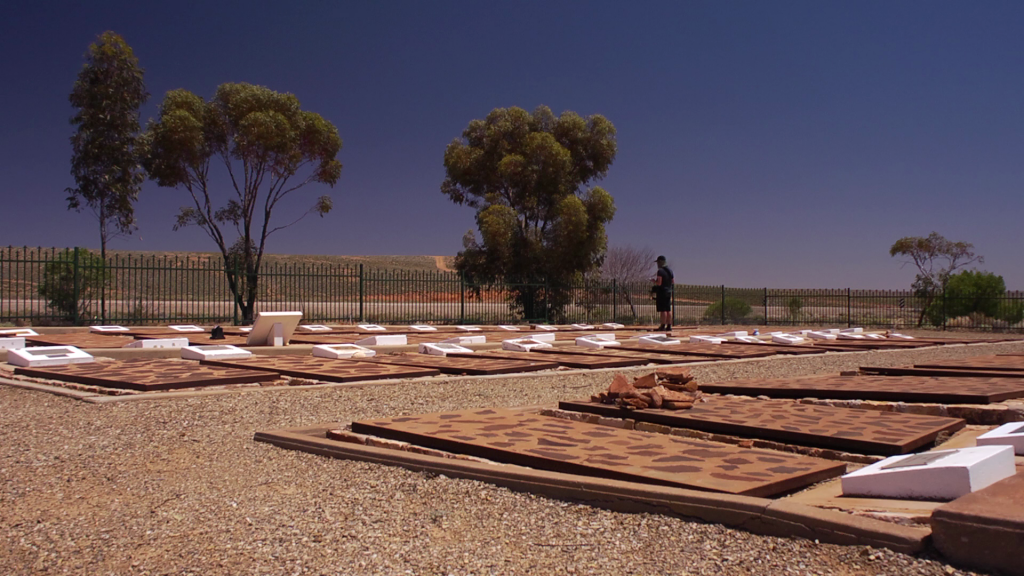 Woke up, packed the Landcruiser and started driving. We wanted to eat breakfast somewhere along the road rather than at the motel. That turned out to be the Woomera Cemetery. Slightly morbid, yes, but the dead are dead and the living need to be fed. And I want to record cemeteries.
We spent a long time there. I first recorded a general atmos, but then lost myself playing with the gate. Its dry hinges made such a beautiful, high-pitched sound. After that I got up close with leaves flapping rhythmically against the cemetery's metal fence. Another very musical sound.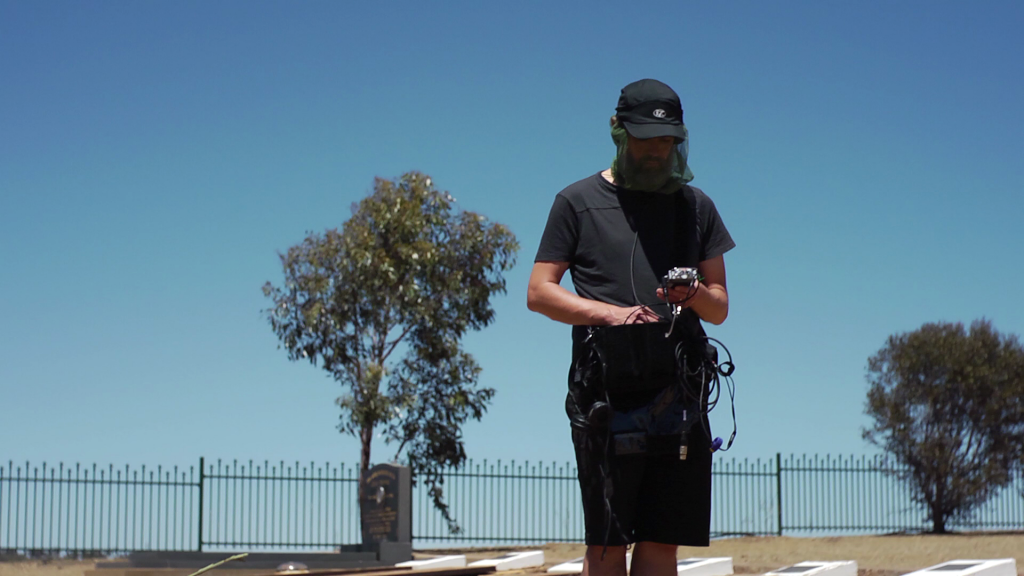 After that we took off on the Bosworth track, hoping to get close to some Lake or other. But I didn't do my research properly because the track ended at a cattle farm with no lake in sight. As it took us two hours to get there, it took us another two to get back. Stupid, really, but at least we got our first experience 4 wheel driving on unsealed road.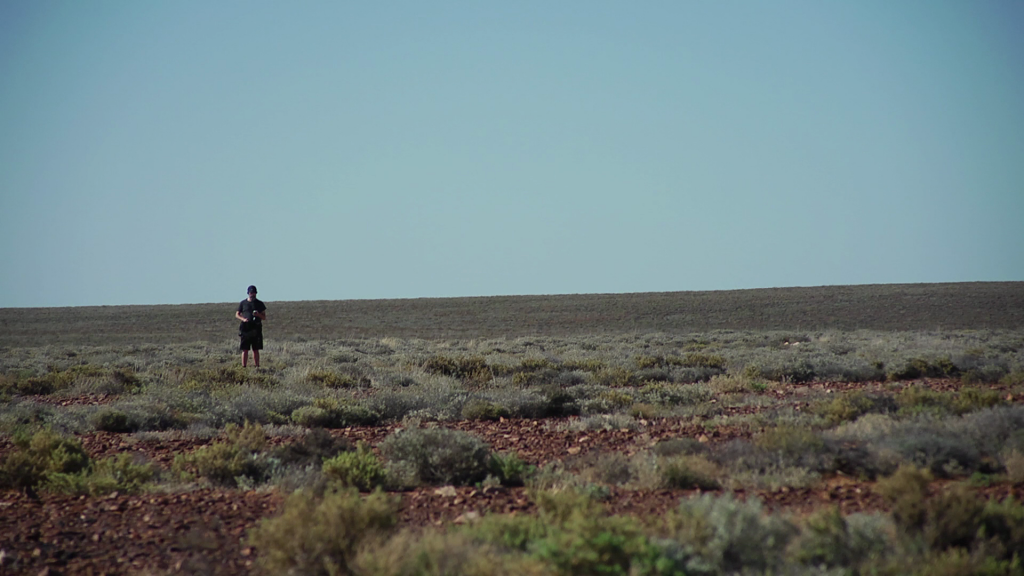 We ended the day driving to Andamooka. We made it just in time for dinner, or rather before the kitchen closed. Dinner at the Duke Bottlehouse Motel, or rather the Tucka box was chicken. Kiev for Ezra, parmeggiani for me. Wasn't too awful. The publican was from Sydney and drunk on Jameson and milk. Seriously. Whiskey and milk. In the same glass.

We asked him and a few other locals about the shortcut track to Farina we wanted to take the next day. I'd seen it on the map but couldn't tell the conditions or level of 4WD experience needed. We were told the track was badly maintained and that there were a couple of sand dunes to cross. In other words, not recommended for inexperienced drivers, especially since the rescue team was the Jameson and milk drinking publican.
None of the locals understood why we wanted to drive a rough track when there was a better and quicker track. I guess that destinations are more important than journeys here as much as anywhere else. And driving 160km at 20km/h does take longer than 260km at 80km/h.
After getting the same advice from the sober motel owner, we decided to be safe. But first we'd drive to Lake Torrens, a one-way, rough, 4WD only track.
11. FIELD JOURNAL DAY 1
Sunday 11 December 2011: Adelaide, Woomera
Jetstar fretstar. Woke up at 4:30 am after less than three hours of sleep to catch a 6:30 flight only to arrive at the airport to hear that our flight was cancelled. Noise!. That explained why I wasn't able to check in online the night before. After much to-ing and fro-ing, we ended up on an 8:20 flight with Qantas. Smooth and easy. Had a conversation with the woman sitting next to me. She was an academic pharmacist of Polish Jewish descent, had a son in Glasgow seemingly doing what I do, and was leaving for Poland to reclaim property her family had owned before the Holocaust. A very nice conversation that made the flight – uh – fly by.

After landing, we picked up the car, stocked up on food and started driving north. As we were two hours behind schedule, we didn't stop to record but drove pretty much straight to the Eldo Hotel in Woomera. Had dinner and spent a long time organizing all the equipment. Did a few recordings outside, mostly to test everything but also to mentally start the project. Then recorded my hotel room and crashed. Deep sleep.
About the equipment: I'll be using three different recording set-ups.
First set-up is a pair of head-worn DSM microphones (Sonic Studios DSM-1S/High). They're supposed to simulate the ears and are worn on the side of the head, in front of the ears. The main reason I use these is conceptual: the fact that I or my head become the microphone fits the nature of this project. Silence, or the absence of sound, is a man made concept. Nature doesn't care about silence. So rather than placing a microphone and then removing myself from the scene, I need to be in the scene, trying to be as quiet and absent as possible.
Unfortunately I have yet to find head-worn microphones that are "good" enough. Even the not-really-cheap-ones I'm using for QUIES are a bit of a disappointment as they're simply too noisy. Which is why I have a second set-up, a hand-held stereo microphone (Rode NT4).
After listening for quiet and/or interesting sound with the head-worn microphones, I aim to use this microphone if and when the self-noise of the head-worn microphone is too loud. Inevitably even this microphone won't be silent enough, in which case I will go for the third set-up, a (mono) studio condenser microphone (Neumann TLM 103) with very little self-noise. As this microphone is designed for studio/indoor use, the space has to be dead quiet. The least amount of wind will disturb the recording as this microphone has no windscreen protection like the other two.