16. FIELD JOURNAL DAY 6
Friday 16 December 2011: Peake Hill, Oodnadatta
Everyone has been predicting rain since the beginning of the week and apparently today it was finally gonna come pouring down. The prospect of rain is fascinating here in the Outback. As all the roads are unsealed, it doesn't take much for them to get closed down. Not that a 4WD wouldn't be able to handle a bit of rain on the road. The problem is the damage the road surface suffers the next day when the sun starts burning.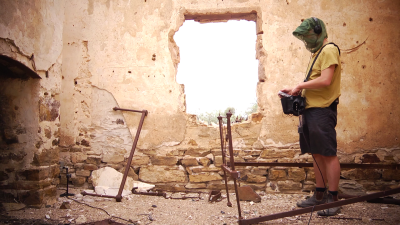 So rather than taking unnecessary risks we decided to drive past all the things to see and listen to between William Creek and Oodnadatta. We did go to Peake Hill along an amazing 4WD only track. I would have loved to record all the ruins but a heavy sky and light drizzle made us rush through the place. I did try to use the studio microphone, but the wind was too present.
Ezra got great recordings here though of me fighting with the wind or flies.
We spent the evening in Oodnadatta. I kept recording as we entered and had dinner at the Pink Roadhouse, but in hindsight, this was not interesting at all.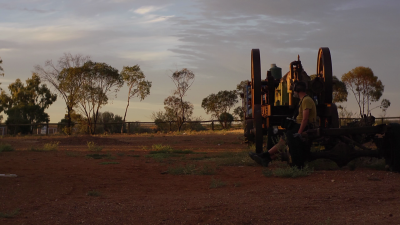 We did do some great golden hour recordings against the backdrop of a children's playground. The local aboriginal community had a christmas party a little bit further along and when that ended everybody had to cross the playground to get to the pub on the other side. One of them, a guy called Donald, came up to me and we spoke for the longest time. He was my age and said I travelled too much and that was why I had so many grey hairs. He had never been outside Oodnadatta and was living off a pension after having been diagnosed a schizophrenic. The conversation was at times hilarious, weird, confronting, and very candid. Not sure how we can use any of it ethically but I hope we can find a way. Great encounter.

Print Friendly