20. FIELD JOURNAL DAY 10
Tuesday 20 December 2011: Coober Pedy
Last day recording. Captured both cemeteries in Coober Pedy. Very windy. Again.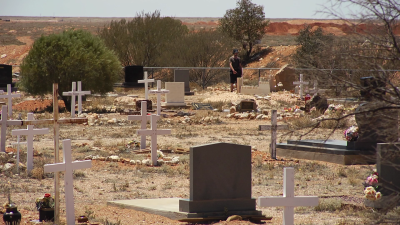 Then rerecorded the candles burning. No one entered the church today until the very end when there was barely any candle left.  I continued recording after they had burnt up so hopefully there's some beautiful quiet in there.
In the meantime Ezra interviewed me. We spoke for almost two hours and had a very interesting conversation.
And that was QUIES the film.
13. FIELD JOURNAL DAY 3
Tuesday 13 December 2011: Lake Torrens, Andamooka, Marree
Our first destination of the day is Lake Torrens. The track is very rough and patchy but that makes arriving at the lake all the more satisfying.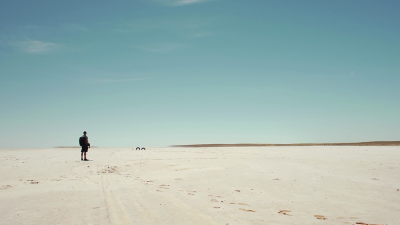 Lake Torrens is not a big salt lake. There's always land in sight. A vast expanse of whiteness or pinkness that might look monotonous at first. Until you pay more attention and notice how the sun and light are continuously changing the landscape.
If only the same could be said about the sound. Or wind, as that was the only sound on the lake. Rather fascinating to experience, but near impossible to record.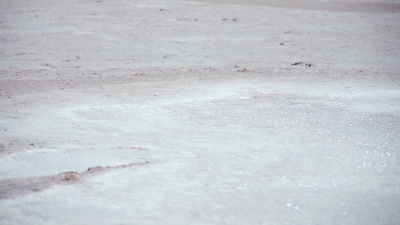 I don't see how these recordings can be interesting other than as an illustration of failure.
You could argue that I should get better wind screens. Fair enough. But what if the wind screens already eliminate as much as the human ear? What about realism? How truthful should these recordings be? Soft winds are eliminated almost entirely by the wind screen and so the recording no longer reflects the reality of the lake. And hard winds are a noise fest to the ear, but sound horrible to microphones. 
But maybe that's ok. Lens flare was once considered poor technique in cinema. So maybe that typical wind sound blasting into the microphones, isn't too bad after all…
When the wind does settle down, the air sounds beautifully pregnant. And when the wind rises up again, soft and subtle, is very fascinating and mesmerising too.
I realized today that I'm faced with an interesting dilemma in this project. Or rather, this chapter of the QUIES project. In previous chapters, I was out recording sound for sound's sake. And whether it resulted in a recording on an album, or as part of a composition or score, the focus was on the sound. Now there's someone filming me. In other words, I am no longer alone in the sound space. And even though the other person manages to stay inaudible for the microphones most of the time, he's there. And no matter how hard I try, I don't manage to ignore this. Even more, I listen and record differently, which doesn't have to be a bad thing, of course. It will be interesting to see whether I can distill another desert album though. I should (try), definitely, as it will inform or even direct the post production of the film in a certain direction.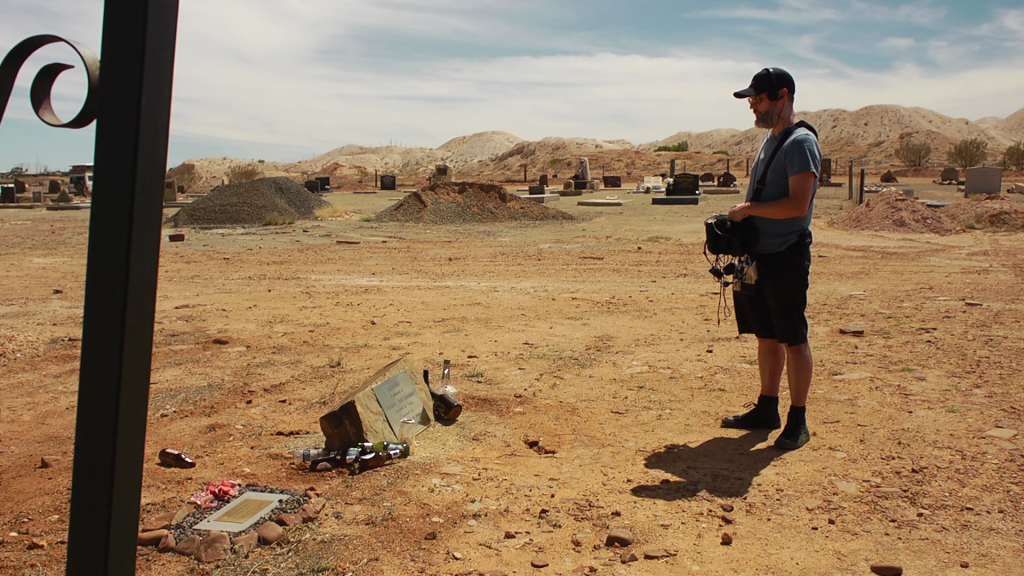 All thinking and conceptualizing aside, after Lake Torrens we drove back to Andamooka and stopped at the cemetery. I wanted to do a quick recording but we ended up spending a fair amount of time there. It was very quiet, especially when the wind settled down. At some point the quiet was shattered by a child's voice coming from far away. Have a good feeling about this one.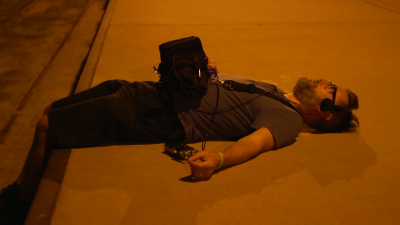 The day ended with a long recording session around the Marree Hotel. First right outside, but then a bit further on the railway platform. An odd sight, the size of this platform in a town that is just 5 people short of being a ghost town. It isn't really, as I could hear faint tv sounds off in the distance. This created a very eerie soundscape though. Especially in combination with the insects and bugs Ezra discovered a bit later. Crashing into a wall, dropping to the ground, flying up again and crashing again. Kamikaze bugs. A very odd phenomenon, but very musical.
And that was Tuesday.
12. FIELD JOURNAL DAY 2
Monday 12 December 2011: Woomera, Andamooka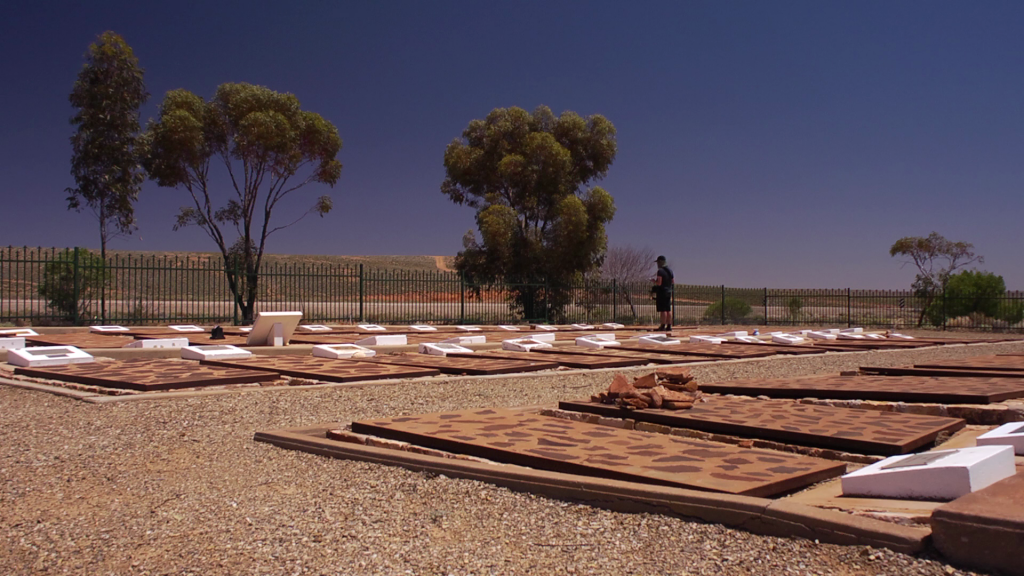 Woke up, packed the Landcruiser and started driving. We wanted to eat breakfast somewhere along the road rather than at the motel. That turned out to be the Woomera Cemetery. Slightly morbid, yes, but the dead are dead and the living need to be fed. And I want to record cemeteries.
We spent a long time there. I first recorded a general atmos, but then lost myself playing with the gate. Its dry hinges made such a beautiful, high-pitched sound. After that I got up close with leaves flapping rhythmically against the cemetery's metal fence. Another very musical sound.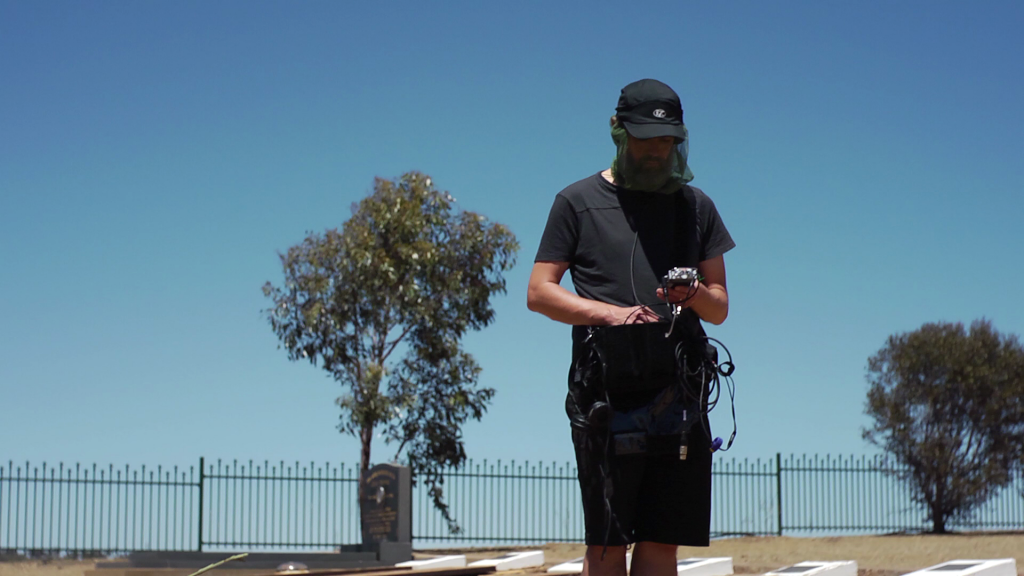 After that we took off on the Bosworth track, hoping to get close to some Lake or other. But I didn't do my research properly because the track ended at a cattle farm with no lake in sight. As it took us two hours to get there, it took us another two to get back. Stupid, really, but at least we got our first experience 4 wheel driving on unsealed road.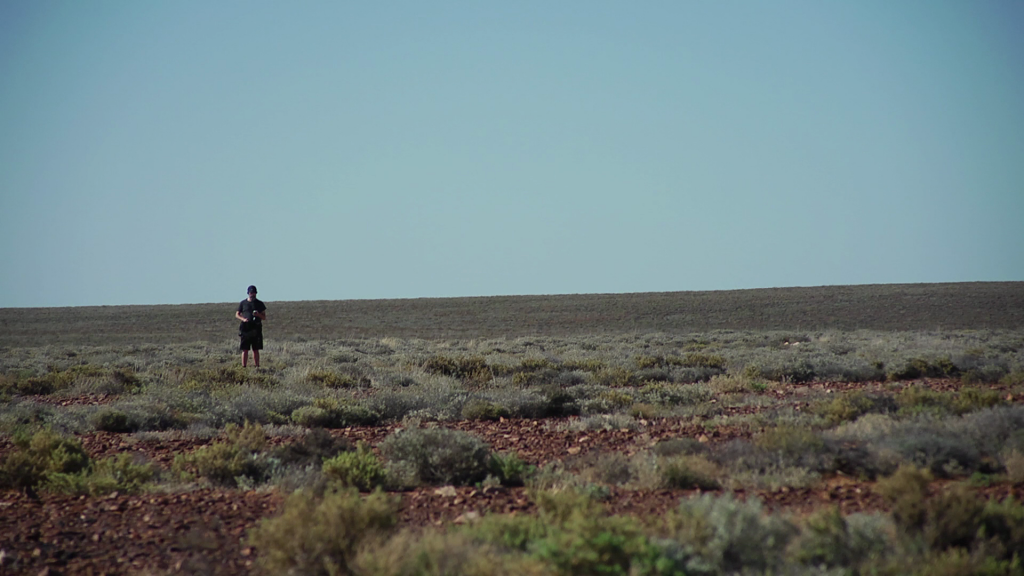 We ended the day driving to Andamooka. We made it just in time for dinner, or rather before the kitchen closed. Dinner at the Duke Bottlehouse Motel, or rather the Tucka box was chicken. Kiev for Ezra, parmeggiani for me. Wasn't too awful. The publican was from Sydney and drunk on Jameson and milk. Seriously. Whiskey and milk. In the same glass.

We asked him and a few other locals about the shortcut track to Farina we wanted to take the next day. I'd seen it on the map but couldn't tell the conditions or level of 4WD experience needed. We were told the track was badly maintained and that there were a couple of sand dunes to cross. In other words, not recommended for inexperienced drivers, especially since the rescue team was the Jameson and milk drinking publican.
None of the locals understood why we wanted to drive a rough track when there was a better and quicker track. I guess that destinations are more important than journeys here as much as anywhere else. And driving 160km at 20km/h does take longer than 260km at 80km/h.
After getting the same advice from the sober motel owner, we decided to be safe. But first we'd drive to Lake Torrens, a one-way, rough, 4WD only track.