15. FIELD JOURNAL DAY 5
Thursday 15 December 2011: Lake Eyre, William Creek
We spent all day on and along the track to Lake Eyre. The track itself was rough and hard work to navigate but we passed a couple of interesting spots.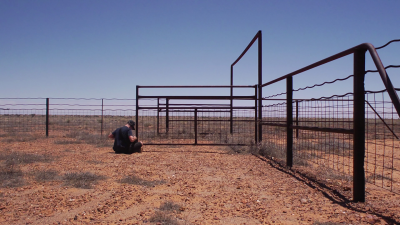 First stop was at a water tank and cattle enclosure. No cattle or anything else in sight. Visually stunning setting but very windy. Luckily the gate came with a very musical chain. I spent quite some time trying to capture it rattling and banging but the wind got in the way all too often.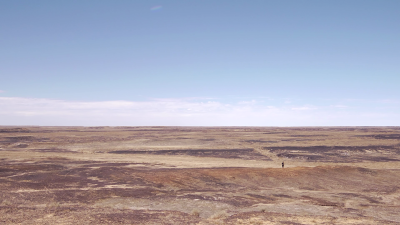 After another hour's driving, we came upon an amazing stretch of landscape, as far as the eye could see. I walked out, away from the car, for about 15 minutes, trying to get as far away from the camera. Then recorded the landscape, or rather, the wind blowing through this barren emptiness. No trees, no plants, no nothing in sight. I'm sure it looks better than it sounds.
Back at the car, we noticed the wind whistling and howling through the holes in a road sign. Yes, a road sign in the middle of nowhere. It sounded amazing but let's see whether it works as a recording.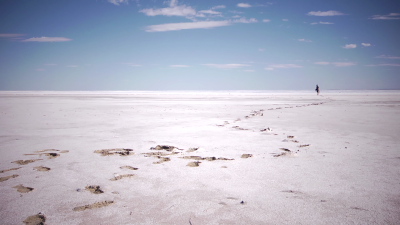 Lake Eyre is visually stunning. Sonically, there didn't seem to be much else than wind. Until I let the microphone hang down in despair… and noticed a sizzling sound of the salt melting and evaporating in the sun. Quite intriguing and hopefully the recordings are good enough. Without any visual information, they sound very similar to what the decomposing road kill sounds like. It's tempting to do an Eisenstein with both recordings, but also a bit obvious.
We spent a second night at the William Creek Hotel. Ezra filmed me talking to Amber and playing with the dog. He says it's very interesting. I believe him.