19. FIELD JOURNAL DAY 9
Monday 19 December 2011: Coober Pedy, Breakaways, Dog Fence
After breakfast in our underground motel room, we drove to the Serbian Orthodox Church to see and especially hear what it's like a year and a half later. Turns out there's construction work being done around the church. So no daytime recordings. Also learned after talking to a guy called Brother that the church has no priest or no active community anymore. It is still open 24/7 and we could come and record anytime. We decided to come back at the end of the day.
We drove out to the Breakaways next. There was hardly any wind or flies. I did manage to fuck up an otherwise beautifully quiet recording by leaving my phone in my pocket. It tried to find a signal, resulting in that typical interference sound. Thank god for editing.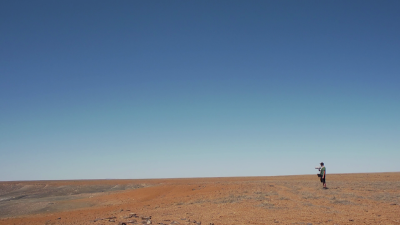 I started recording with the DSM microphones but quickly got distracted and disappointed by how noisy they are. It is such a pity because I love the fact that my head acts as the microphone. I turned to the stereo microphone next and after getting too much self noise there as well, tried the studio mic. As it doesn't come with a proper windscreen, I constructed one myself with a camping laundry basket. It did the trick as long as the wind was soft and made for a very beautiful recording of almost perfect quiet. It only worked once though as the wind picked up speed again. Did manage to capture another very quiet landscape with the stereo microphone. An almost magical experience.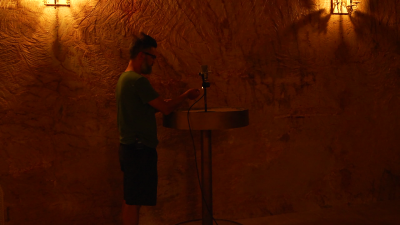 We spent the rest of the day and evening at the Serbian Orthodox Church. Because I experienced near silence there last year, I was very excited about properly recording the space. Alas. It was much windier than last year, there were tourists and my current microphones are much more sensitive.
So whether it was wind, or other visitors, I simply did not manage to grab a quiet recording. Got close for a few minutes but never much longer. Very frustrating.
I needed to focus on something else so I decided to light a candle. Because of the hollow acoustics in the space, this sounded amazing. It sounded even better through a microphone. So I ended up composing with first one then two then three candles and the stereo microphone for the longest time. When that was done, I thought it'd be cool to just keep recording until the candles had burnt up completely. Ezra drove into town to get us some dinner, which we then ate outside the church while the sunset set the sky on fire. When I went back downstairs to check on the candles, the recorder had run out of memory. Extremely stupid and unprofessional. I'll have to go back tomorrow.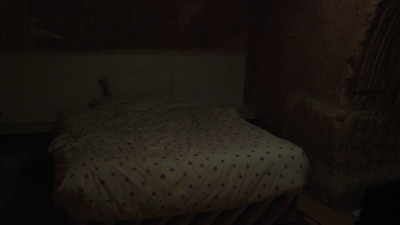 The night ended at Riba's underground motel. The "mythical" place where I experienced proper silence last year. Guess what? No silence this year. It was really quiet but never perfectly silent. Most annoying was a very low, almost constant rhythmical rumble that turned out to be someone snoring. I tried again at various moments during the night and early morning, but there was always some sonic activity. Failure.